When much of Europe closed down in the Spring of 2020 with severe recessions forecast for most countries, it was hard for brands and agencies to look ahead to the future with any positivity.
But in our last white paper – The Worst of Times, The Best of Times – we found signs for optimism even in the midst of crisis.
Drawing on a comprehensive dataset of the Effie Awards Europe winners from 2009 to 2018, we showed how successful premium brands could not only weather recessionary storms, but even grow and thrive during the tough conditions of recession. Conditions which created belt-tightening and cutbacks in consumer spending which many commentators thought acted against brands commanding price premiums.
Instead, our findings showed that premium brands could succeed by following some key principles, which we are going to summarise in the following paragraphs.
This White Paper has been developed by Effie Awards Europe and EACA, in partnership with The Effectiveness Partnership and \TBWA. We are also delighted to offer some additional perspectives on recovery from a leading client - Adrian Farina, SVP Head of Marketing, Europe at Visa, and a leading strategist, Vincent Garel, CSO and Exec VP, TBWA Groupe France.
1. POST-RECESSION GAINS ARE ASYMMETRIC RATHER
THAN SYMMETRIC
Since recovery years mean a rebound in economic conditions, we would expect to see the business effects of our effectively awarded campaigns become stronger and more pronounced. And our dataset shows this to be the case. We can see in the graph that there is a strong upswing in the largest business effects.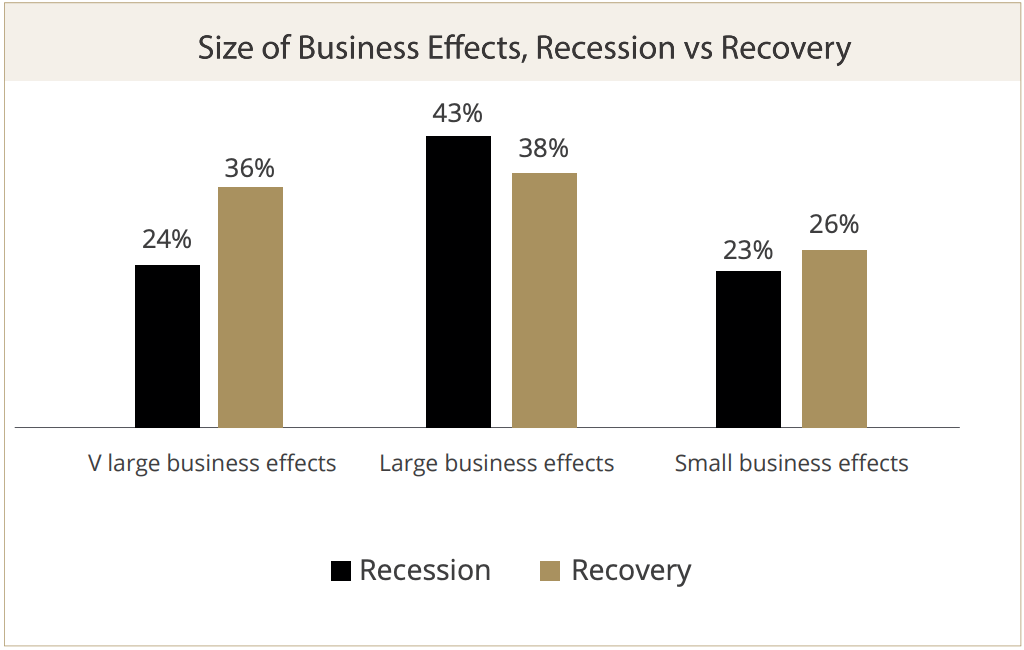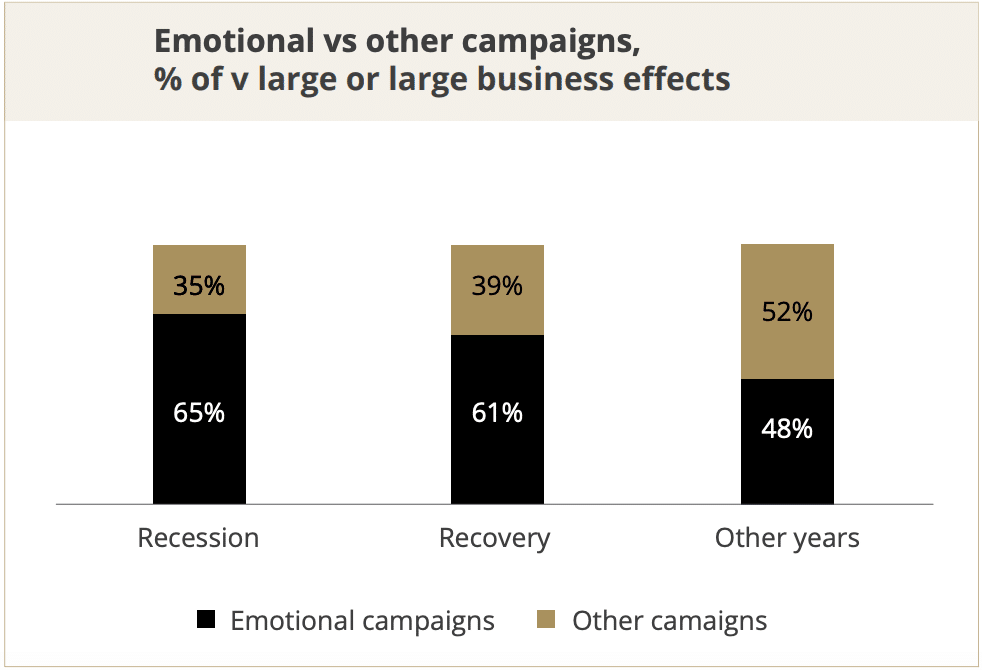 2. IN TIMES OF DISRUPTION, COMMUNICATIONS HELP TO BUILD AND RE-BUILD EMOTIONAL BONDS WITH CUSTOMERS
During recessions, consumers experience increased financial or emotional distress. Fear and uncertainty prevail, opportunities for pleasure and leisure are diminished and trust in institutions and brands comes under pressure. In these dark times brands can act as a lighthouse for consumers, but to achieve this, brands need to show empathy towards their consumers.
3. SIGNALLING INNOVATION YIELDS BIG RESULTS IN RECESSION AND BEYOND
The wisdom of resisting the urge for cost cutting in recessions doesn't just apply to the media budget, but also to innovation. Across all sectors, innovating during recessions should be considered a smart business strategy. Our data shows that 63% of effective campaigns during recovery years supports new product or service launches, a number significantly higher than in other years.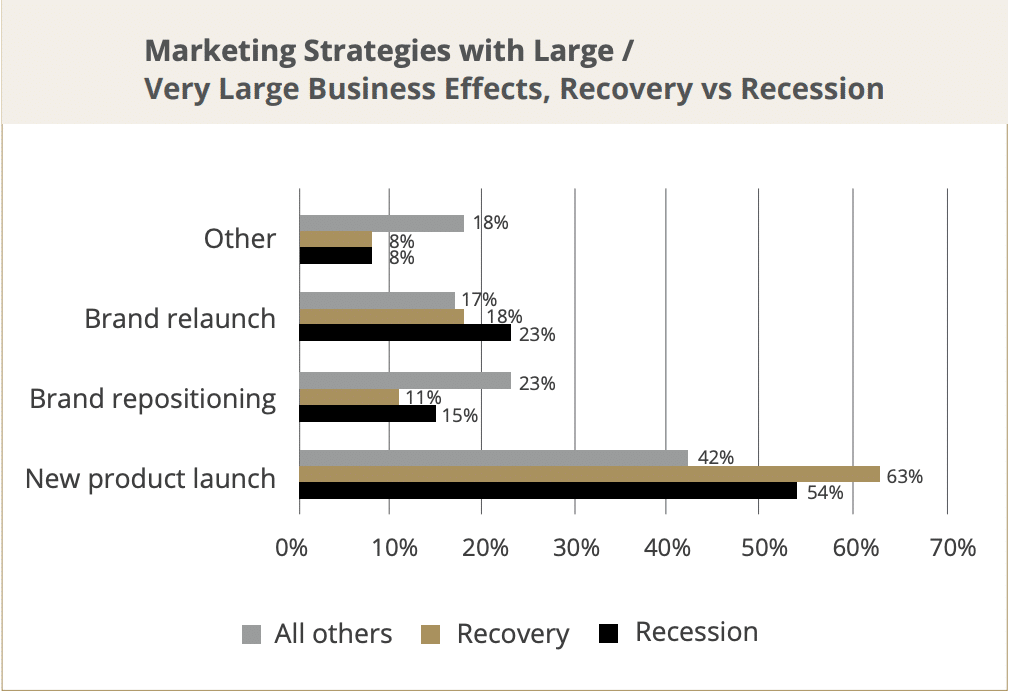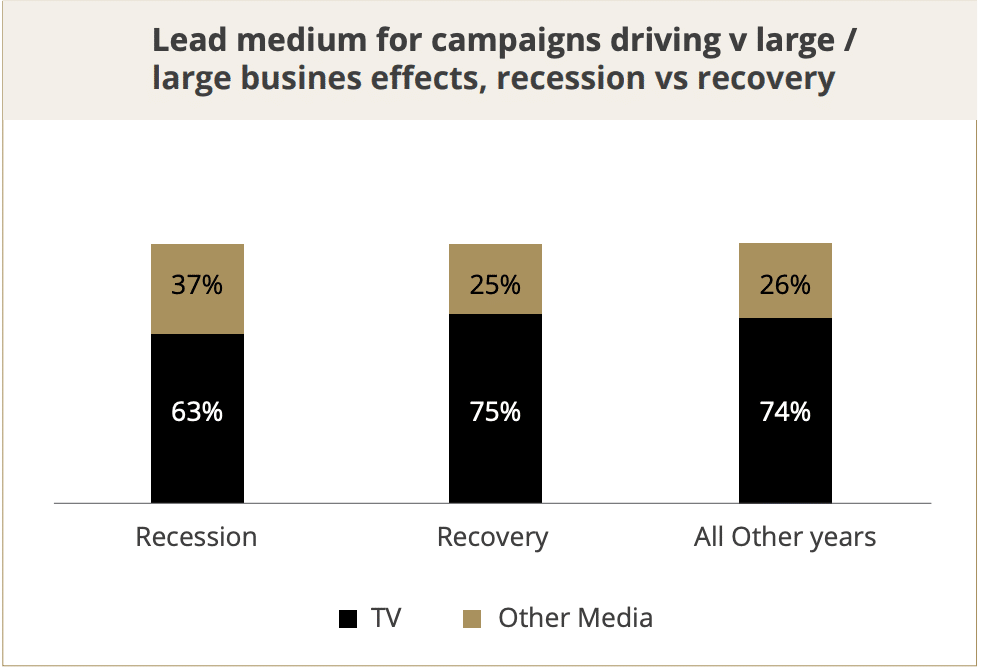 4. ORCHESTRATING NEW MULTI-CHANNEL EXPERIENCES IS CRITICAL AS BRANDS EMERGE FROM RECESSION
During recessions, marketing departments are under pressure to do more with less and demonstrate strong returns on investment in the short term. Typically, the share of communications budget devoted to broadcast media shrinks, but our findings show that TV still continues to be the most effective channel in driving very large business effects for brands.
The recession that has been sweeping the world is unprecedented in its scale and severity.
Now, as vaccination programmes gather pace, brands, businesses and customers can look towards regeneration and growth (although the future is still uncertain).
Our data from the EACA Effectiveness Knowledge Centre shows that communications can help to spearhead this growth, creating a new and more prosperous future for brands, going beyond surviving to thriving.