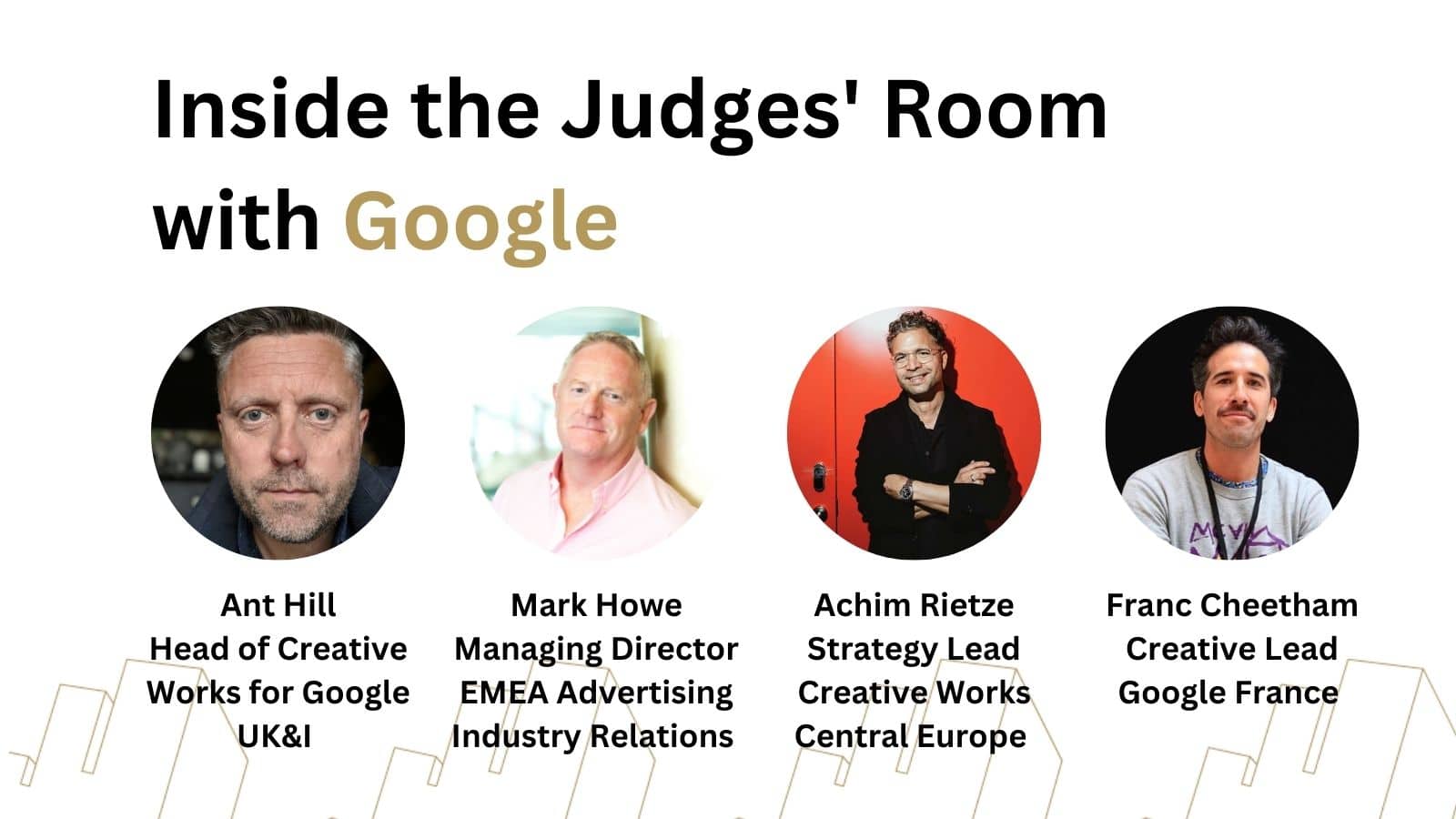 After months of judging sessions, dedicated deliberation and passionate debates, the 2022 Effie Europe season has come to an end with a virtual gala that saw many incredible European campaigns. We asked 4 Googlers: Ant Hill, Head of Creative Works UK&I; Mark Howe, Managing Director, EMEA Advertising Industry Relations; Achim Rietze, Strategy Lead, Creative Works Central Europe; and Franc Cheetham, Creative Lead, Sustainability Specialist to take us inside the judges' room.
We chatted with Ant, Mark, Achim and Franc to get an inside perspective into what it's like to be on the Effie jury and to get their views on effectiveness, key trends, their favourite campaigns, and to give you some advice on how to step up your game and win an Effie.
We'd like to better understand what you do at Google. What is the role of 'Creative Works'?
Achim, Franc and Ant: Creative Works helps brands and agencies to get the most out of Google's platforms, whether that's with YouTube campaigns or experimenting with AR, VR experiences. Our role is to keep on top of rapidly shifting cultural, platform and marketing trends while pulling from our extensive knowledge and research of what makes work really thrive on our platforms using creativity and media.
Mark, what is the role of Industry Relations?
Mark: My current role is primarily focused on creating strong partnerships with Advertising trade bodies in Europe, including agency trade bodies such as EACA, and supporting the growth of the advertising industry at large. It's crucial that Global Platforms like Google immerse themselves in the various Advertising markets across Europe and play their part in helping both Clients and Agencies understand and exploit the full potential of Digital Transformation. We can do that at scale when we're properly engaged with the Advertising community through the major Trade Associations.
How do you define effective marketing and why is it important?
Achim: As everything moves online, it becomes measurable. Experimentation is the key to effective marketing as it enables you to find exactly the right formula to interact with the right user in the right way. We know that contextual creative can increase purchase intent by up to 63% and that customised ads get 3 times more attention than the average ad. That's why most brands rethink their approaches and explore new ways to integrate technology with creativity.
What advice would you give to businesses to develop an effective marketing strategy during the current economic climate?
Mark: Whether its new technology, ever-shifting consumer behaviours, or sociopolitical issues, marketers need to be agile and prepared to constantly experiment and evolve with the times. Connecting with consumers using effective marketing is even more paramount during a period of great instability like the one we are currently living in. It's never been more important that businesses demonstrate they have an authentic purpose but equally to effectively engage with their consumers it has to be memorable for all the right reasons.
Achim: The last few years have been full of uncertainty for us all. And many of us turned to Google to understand what's going on. They're searching, for example, 'why is inflation so high' and 'when will prices go down' - trying to make sense of increases in the cost of living. In Germany we see a boost in search queries for 'energy saving' of over 150% since last year.
With the current macro-climate, brand building plays an even more crucial role. Because when the market re-stabilizes, we expect strong brands to recover faster. Data from the crisis in 2008 clearly shows that brands that held their share of voice, were the ones that bounced back strongly. So what businesses can do today is to stay connected with the people via upper funnel campaigns. Fact is: Investing in your brand remains a powerful way to grow.
Franc: Think about how you can find ways for your brand to innovate and be helpful to your consumers during these troubled times. Consider opportunities that broader challenges such as sustainability play directly into the aspects of being economical and cost conscious. There are new ways to look at how we can be more efficient and resourceful as the circular economy promotes.
As first-time Effies judges, how would you describe the judging experience? What was the highlight of the judging for you? The most challenging?
Ant: I really enjoyed the experience. The systems were very easy to use and provided the right amount of information to get a solid understanding of the campaigns in question, however, the clear highlight was the judging discussion itself - listening to the views of the other judges was superb and in some instances a genuine learning experience. Most challenging was making sure that, in the limited time, we balanced the 'airtime' for all judges to add their perspectives.
Mark: I take great pride and enjoyment in judging all awards as I always learn something new and get a deeper understanding of the strategic thinking and talent within both the Client and Agency community. This year's Effies were no different. What I love most about the Effie Europe is the diverse markets and talent on show.
My highlights included judging those campaigns that took a difficult subject and came up with a fun, clean, clear and innovative solution that got me personally thinking differently about both the brand and the sector. Unsurprisingly, the most challenging part of judging was differentiating so much high quality work. In my eyes, the campaigns that really stood out were the ones where the strategy and creative worked seamlessly in the medium they were exposed to.
As a past Effies judge but first-time Grand judge, how was participating on this jury different from your previous experiences?
Achim: I think every Effie jury session is special, but compared to a regular Effie jury you have more time to discuss deeper and compare harder - making sure you honour the high standards of that special trophy. Let's not forget that the Effie is one of the world-wide most recognized awards and you have to shine the spotlight on the single best case submitted in Europe. Last year there were 5 and this year 11 contenders on the table - so this was a tough session and Vincent Garel [Executive VP, Chief Strategy Officer, TBWA\Groupe] did a fantastic job in moderating our debate.
Can you share an example of the campaign that particularly impressed you or inspire you to think differently about marketing effectiveness? Was there a single takeaway that will stay with you?
Ant: I was really impressed by the Three telecom campaign in Ireland. The use of the campaign to provide proof of their tech in action making a dramatic difference for a cut off, declining community was inspiring and much better than simply telling a dry tech story like their competitors.
Achim: I loved the creative strategy behind the 'Flutwein' campaign, it is so well thought through. And there was Pringles, who found an authentic way to reach 80 Mio Gamers by creating a game character with the power of an influencer. Their bold strategic move to switch from traditional sport sponsoring to eSports and Gaming truly paid off. The innovative use of the Twitch platform helped them to dive deeper into the gaming culture and opened up new storytelling opportunities. The boost in user engagement and long-term ROI with Gaming is as impressive as misanthrope Zombie Cowboy Frank himself. The well deserved Grand Effie 2022.
Were there any key trends you saw from the entrants this year? If yes, what were they?
Franc: One key trend that surfaced in a number of cases involving platforms was the creation of strong community engagement. The Pringles Meet Frank campaign understood gamer codes and played directly into their interests by creating a game character and his universe; Come Out With Me, provided a platform for the LGBT community to 'come out' and speak out through influencers donating their channels and comments; Milka did with their rapper turning Tender Acts for his fans and Dagoma Toy Rescue working with the maker community to create 3D designs for broken toy parts through an easy to use platform.
What advice would you give to a rising marketer who aspires to win an Effie one day?
Mark: It's never been such an exciting time to play in the marketing space, with emerging communities and everyone becoming both creators and consumers, diverse media formats and emerging technologies to get your brand messaging across.
My advice? Learn from history, don't ignore it, always stay true to the origins of the marketing strategy you've created and deliver both a visually stimulating and engaging creative that matches or works seamlessly in the relevant media. To create something impactful, test, iterate, repeat. There is no one-size-fits-all recipe for success with effective marketing, but there are data-proven strategies for impact on our platform. Don't be afraid to try longer sequences, and to explore your old, new and planned asset library with narrative structures in mind. The more you experiment, the more you'll understand the creative levers you need to pull to be effective.
Achim: I agree, we've never been able to understand campaigns like today. With better data and tools, we can break down ads into their elements and understand how they contribute to the effectiveness - the use of audio, presentation of products or narrative structure. We can look at different sequencing strategies and analyse how they work towards specific marketing objectives - which ones drive brand awareness versus purchase intent for example. And finally, we can look at all of this through the lens of audiences and geographies and learn from that. So for marketers such an experimentation approach creates a lot of complexity, but also opportunity.
Ant: Don't get carried away with fads, trends or follow the pack. Instead, listen to the needs of your business and the people who use/consume your products/services to find a breakthrough that symbiotically binds them together. Then execute brilliantly in a measurable way.
Franc: It's never been such an exciting time to play in the marketing space, with emerging communities and everyone becoming both creators and consumers, diverse media formats and emerging technologies to get your brand messaging across. Dare to be bold, embrace diversity and authenticity with communities. Push the boundaries of storytelling by experimenting with multiple formats. Dare to be bold and break norms by allowing your creativity to connect on a level that transcends culture.
And any final advice on how to write an Effie case?
Achim: If you are writing an Effie case remember: A great case tells a great story. It draws you in and makes you want more. So think about how to organise your chapters and how your story unfolds. Secondly make sure you probably tie back your results to your objectives - which should be clear and measurable. How did your work make a difference? Thirdly: Be focused in your storytelling, but zoom out when it comes to the market, because one of the most common jury complaints is the lack of context.