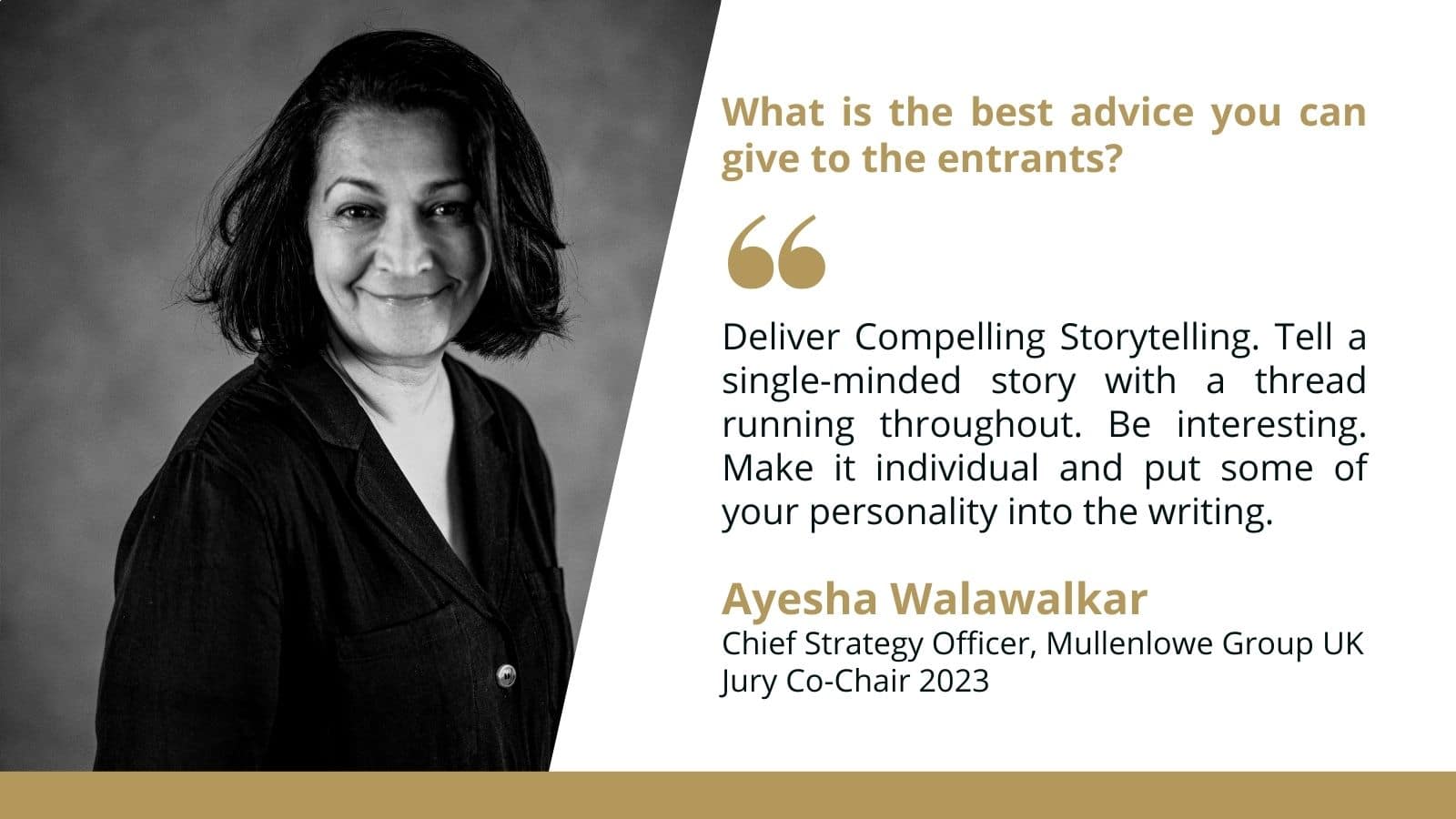 Need some guidance & inspiration in crafting your entry?
We've asked our Jury Co-Chair: Ayesha Walawalkar, Chief Strategy Officer, Mullenlowe Group UK, to give you some advice, so you can focus on what matters most.
How do you define effective marketing?
Very simply, as marketing that demonstrably achieves its objectives and generates results that outweigh the investment made.
Those results can be measured in any number of ways, from growth in brand equity and penetration to driving behavioural change: the key is to clearly define what exactly we're trying to achieve.
What marketing trend(s) are you excited about right now?
I think our industry is going through a period of rapid change, and that in 10 years' time we'll be living in a very different marketing landscape.
Obviously, we've been experiencing the democratization of influence for some time now as brands have placed more of their marketing budgets in the hands of influencers and creators, but we're only just beginning to understand the impact of AI – not just in personalization but in content creation. Some of the implications of AI generated content are deeply troubling, but it also offers fantastic opportunities, and I'm already seeing work that is stunningly good. This is something that I am fascinated to watch evolve.
What are you looking for in this year's Effie Europe edition?
The same thing that I always look for in the best of Effie papers: an intelligent demonstration of creativity – both in strategy and execution – that impacts people's attitudes and behaviours and brilliantly delivers against a clear objective.
What should entrants avoid when writing their papers?
Don't assume that the judges know about your brand or your market. Explain the context. Use benchmarks to help judges interpret your results.
Also, avoid hyperbole and jargon. Define any industry terms and explain any assumptions to the judges.
What is the best advice you can give to the entrants?
Keep it simple. Be clear and concise. Streamline and signpost your case to deliver an easy read for the judges.  Ensure you clearly articulate the campaign strategy, idea and implementation. Be crystal clear how your idea works and how it delivers the key message.
Deliver Compelling Storytelling. Tell a single-minded story with a thread running throughout.  Be interesting.  Make it individual and put some of your personality into the writing.
Explain the Strength of the Solution.  Whether this is an imaginative and impressive strategic, media or creative solution. Tell the judges and present evidence. Not just evidence of success, but evidence of thinking – particularly if research unlocked the insight.
Deliver Conclusive Campaign Effectiveness Proof. Show the link between campaign impact on awareness or perceptions through to behavioural and business effects. Be explicit in the narrative as to how your campaign worked and delivered against its objective so judges don't have to work it out and join the dots for themselves.
High quality work. In my eyes, the campaigns that really stood out were the ones where the strategy and creative worked seamlessly in the medium they were exposed to.
What do you hope marketing looks like in the next five years?
In five years, I hope marketing will have embraced new tools to remain as creative and powerfully effective as it has ever been, but I also hope that by then we will have worked out ways to ensure that everything we do is ethical.