ADVERTISING EUROPE - Effectiveness
What is Advertising Europe?
Led by Paul O'Donnell, EACA's former president, Advertising Europe brings together experts, EU decision-makers and EACA members & partners for 30-minute conversations on topics which define the industry. Not your usual talks: Advertising Europe's aim is to 'cut it short' and get to the core of those delicate problems which surround the advertising world or are approaching at the speed of light (think DEI and Sustainability).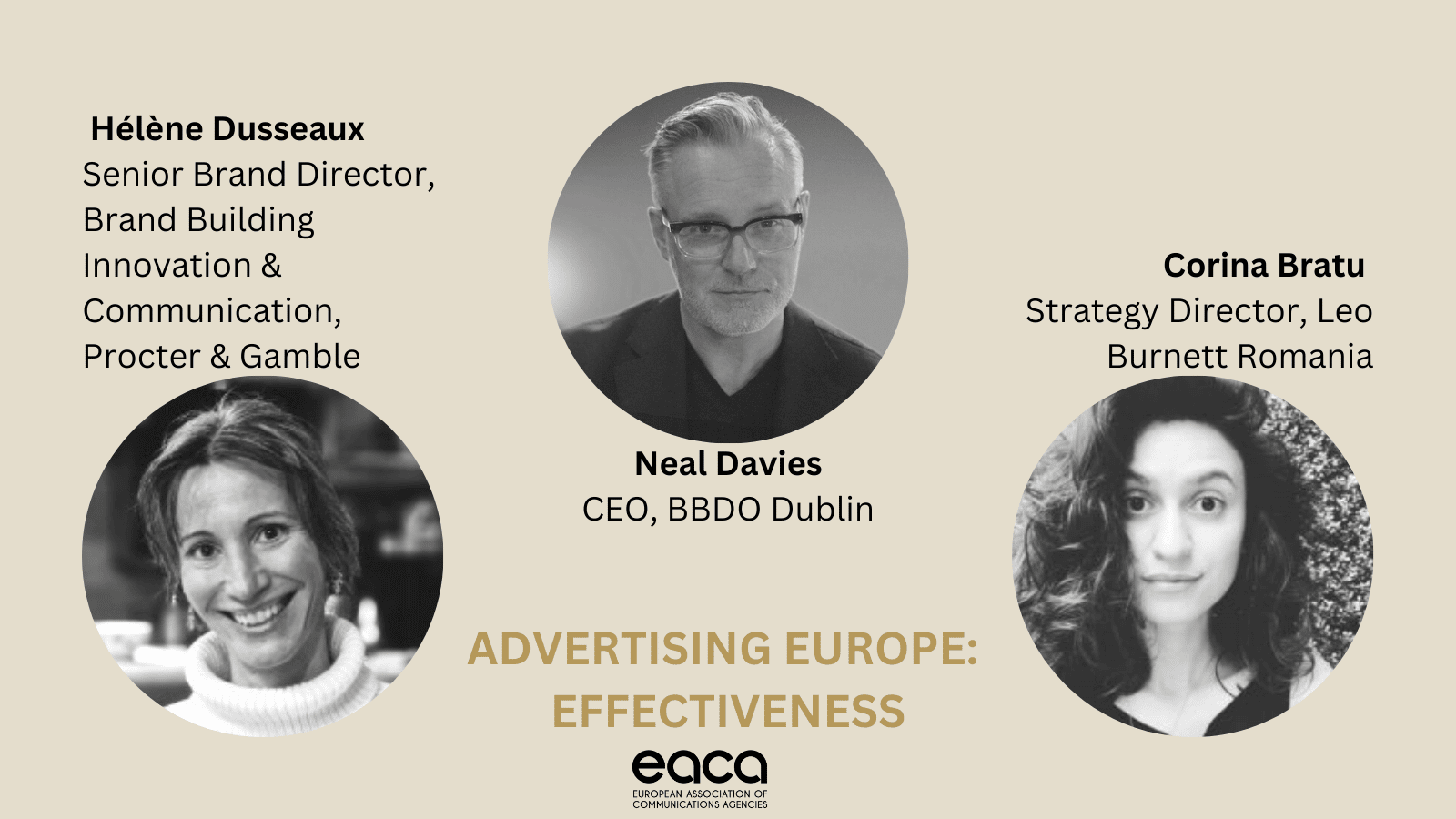 In the sixth episode of Advertising Europe, Neal Davies (CEO, BBDO Dublin) and this year's Effie Awards Europe jury representatives Corina Bratu (Strategy Director, Leo Burnett Romania) and Hélène Dusseaux (Senior Brand Director, Brand Building Innovation & Communication, Procter & Gamble) shed light on the issues around effectiveness in our industry and reflect on the Effie Awards Europe 2022 jury sessions.
Take a look at the topics covered in this episode:
Definition of effectiveness
Hélène Dusseaux (P&G) explains in simple terms that effective advertising is the one that builds the brand in both the short and long term. To this statement, Corina Bratu (Leo Burnett) adds that it is always creativity that drives results in both brand building and business. Lately, purposeful initiatives and positive change campaigns that are based on creativity applied to certain objectives are showing up and helping more in measuring effectiveness.
Role of digital channels in brand building
For most people, digital media is seen as a short-term activation tool. In fact, there is a part of marketing that has to do with promotion, immediate sales and e-commerce that helps to track and deliver results. However, it is common to forget that they can also do the rest, such as brand building, sharing the full narrative and creating deeper connections, but it also depends on the platform. In some of them it is necessary to split the message, dividing the communication assets: one for the upper funnel to create awareness and one for action. At the same time, there are platforms that have evolved and show that with one asset you can execute the whole funnel.
Gen Z as the trendy consumer
Generation Z consumers are looking to feel validated and brands understand this. That's why apps like Tik-Tok and influencers are increasingly used as channels to reach this consumer segment. By being more open and not taking themselves too seriously, these brands get their message across quickly. Using the same social media influencers as endorsement and bringing them into traditional media such as television are becoming a trend in recent times. This wave is being seized upon by marketers who know how to make the connection and brands who want to capture this pop moment.
Effie Awards Europe – the best effectiveness measurement tool
Both speakers shared their expert view of the Effie Awards Europe 2022 jury sessions and their surprise on the amount of good creativity that was present. The two observations Hélène made throughout the jury process were that there were brands that really stayed true to their roots and assets and that the best cases are the ones that are the most truthful.
Corina highlighted the importance of taking a higher role in being the brand and having the element of wanting to go beyond the bottom line as making an impact on societies and communities. This is a key ingredient that the jury appreciates and looks for in asking whether this is a best practice for Europe that they would like to set as a European standard.