CATEGORIES
Best of Europe: Positive Change (Gold Effie)
Best of Europe: Small Budget (Gold Effie)
CLIENT
Dagoma France
LEAD AGENCY
TBWA Paris, France
CAMPAIGN DESCRIPTION
DAGOMA, a French SME wanted to make a place for itself in the 3D printer market for individuals. Although this technology is generating interest in France, the conversion rate - the act of buying - was still low and far from the forecasts made 5 years ago.
To address this issue, Dagoma changed its marketing claim from "with 3D printers create without limits" to "with the 3D printer give a second life to your objects." TBWA Paris together with the client promoted repair as opposed to replacement through the Toys Rescue campaign that resonated with sustainable practices while providing practical solutions.
THE STRATEGY
The viral potential of Toys Rescue was maximized by the timing, the campaign was launched during Christmas, when toys are in every single conversation, and by creating a collaborative online platform without obvious brand identity related to Dagoma.
The first part of the strategy looked like a non-branded public operation, with the aim of raising awareness on waste and repairing toys but also other objects to give them a second life and limit over-consumption. Playing on the sympathy we all have for toys and even the emotion we could have for a toy missing a body part, the main call-to-action was "Download his head/left ear/leg/it on toy-rescue.com".
The strategy was to move forward in a hidden way before revealing Dagoma's endorsement, then to rely on ultra-known licenses (Barbies, Nintendo, etc.) and refer to Dagoma within the platform in a skilful and indirect way. To build a narrative that clearly explained the link between Toys Rescue and Dagoma, they created an aggressive PR strategy with differentiating PR kits that encouraged journalists and newsrooms to talk about Toys Rescue.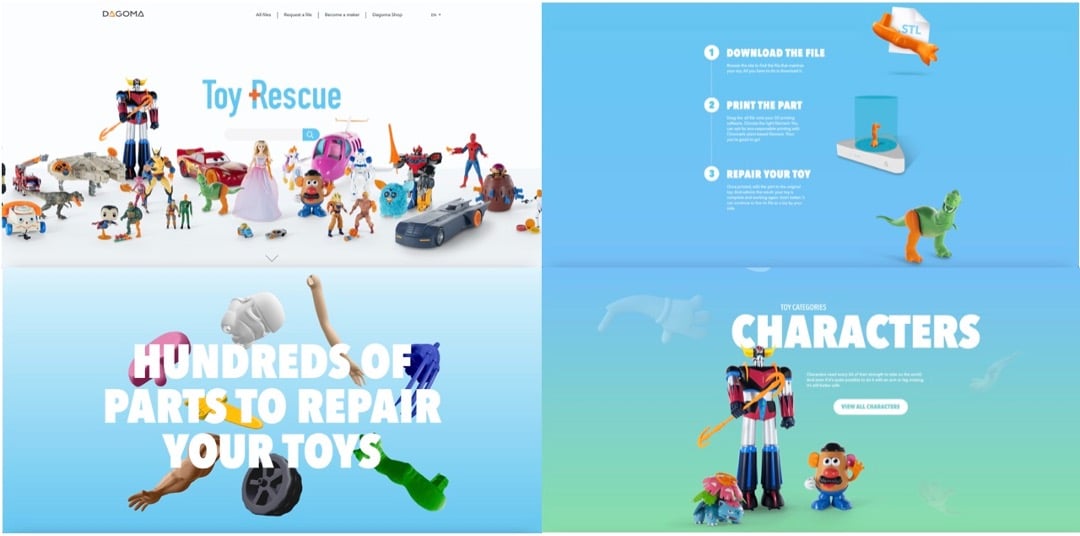 An exemplary marketing case, showing how a simple communication idea without any media allowed this small company to work on its conversion funnel not only by generating visibility (426 million media impressions in 25 countries) but also by boosting the conversion rate (+42% increase in sales).
RESULTS
The Toys Rescue Campaign significantly outperformed each of four objectives:
1. Visibility
With the choice to opt for an offensive PR strategy and the dream to obtain 100 million media impressions. This objective was largely achieved, even quadrupled.
Without any media budget and in 2 weeks, the idea attracted the interest of more than 15 major TV channels and generated around 30 articles. Toys Rescue generated over 426 million media impressions in more than 25 countries.
Regarding the Toys Rescue website, within one month, more than 1,200 toys had already been repaired and the number of visitors to Dagoma's website increased by +137%.
2. Sales
The Toys Rescue was created to democratize the use of 3D printers in everyday life and Dagoma expected an increase in sales of 20%.
The objective was largely reached and had doubled with a monthly turnover before and after the operation rising from 160.000 to 300.000! An outstanding increase of almost 42% considering the operation was media-free.
WHY A DOUBLE GOLD EFFIE? Here's what the jurors said.