CASE STUDY: Stranger 80's
Effie is about awarding ideas that work, educating about effective marketing and showcasing the best work to enhance learning in our industry.
In the spotlight: Stranger 80's, 2021 Silver & Bronze Effie Winner!
CAMPAIGN NAME
Stranger 80's
CATEGORY
Best of Europe: Media, Leisure & Entertainment (Silver Effie)
Best of Europe: Media Innovation/Idea (Bronze Effie)
CLIENT
Netflix Italy
LEAD AGENCY
GroupM
CAMPAIGN DESCRIPTION
Netflix's most successful show is Stranger Things. The task was to launch season 3 of Stranger Things, whose plot pays homage to the 80's. To generate a national conversation they had to raise awareness of the series widening the target from 18-34 to 18-44 yrs.
Mediaset editor (italia 1 owner) had always perceived OTTs and Netflix as a competitor. The idea of hacking their channel was provocative and seemed impossibile. Leveraging on the fluidity of demographics moving from Netflix to Italia 1 (main national 18-44 channel), and Italia 1 to Netflix was the win-win idea which made this platform possibile.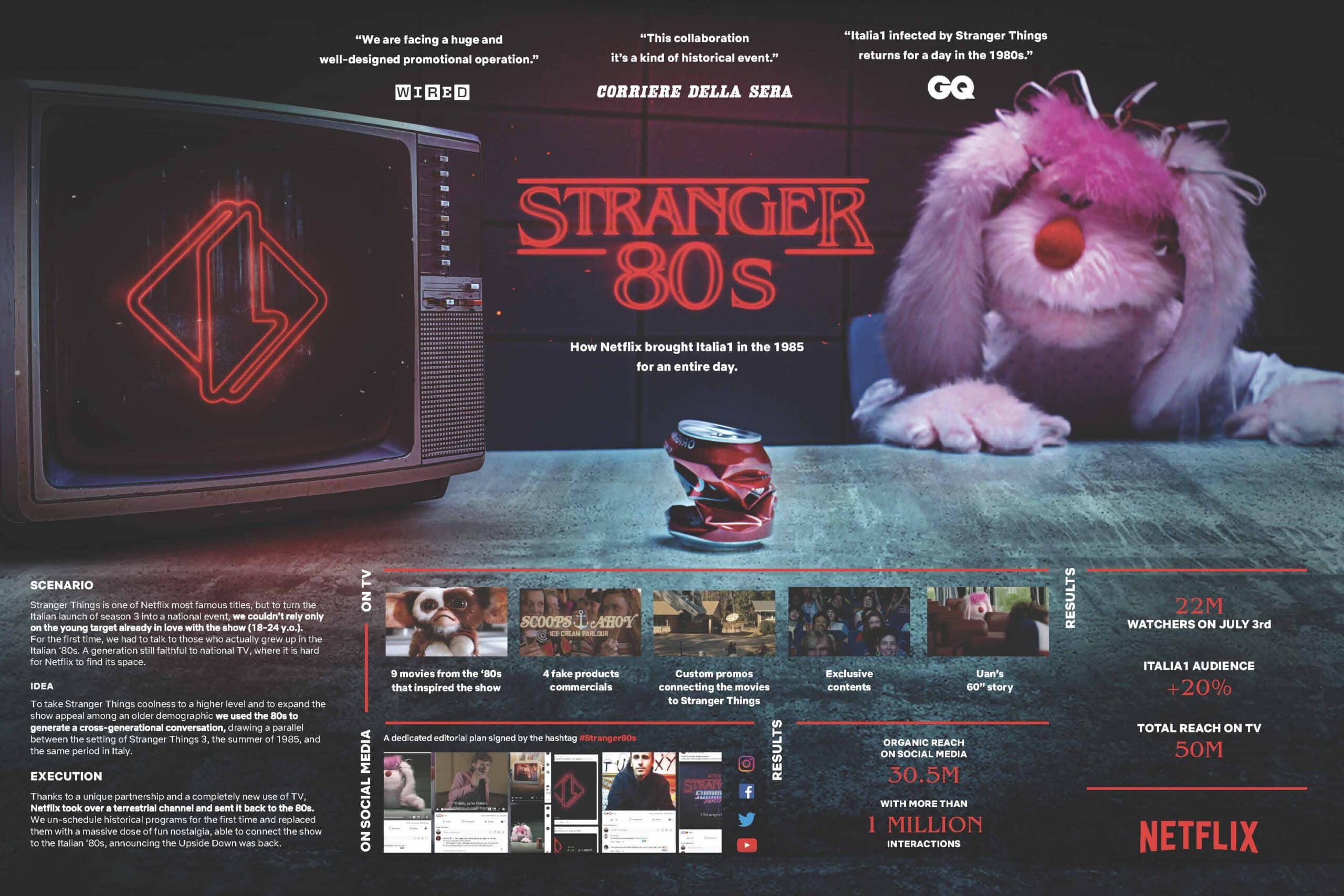 ST3 campaign was reported in Italian media with words as:
Historical,
Well done,
Pure genious.
RESULTS
The insight was to use Mediaset Italia1 national tv channel which has a high penetration on YA and its 80's early days fans (+35 yrs). Provocative use of media was to HACK its historical programming to their purpose and let it rerun 80's ST3 referenced movies all day long while interspersing Netflix ads.
The results were astonishing and far exceeded the expectations. Not only the tv spots were so effective that their remembrance increased awareness for the ST3 series over + 15%. But even more surprisingly +116% (vs 15% expected) of the viewers were aware of the release date. Referring to consideration they earned +30% of viewers while +34% appreciated the original initiative so much that they decided to join Netflix.
WHY A SILVER EFFIE? Here's what the jurors said.